We human beings want to feel secure. We want a secure nation, secure neighborhood, and secure future. We want to feel secure in our families, in our relationships, and in our marriages. We want to be secure in our health and our finances. We want our children to grow up, mature and have a good future.
Wanting security means we want a sense of certainty; a sense of knowing. Yet, we live in an uncertain world, where things change in an instant.
Natural disasters strike, we lose our finances, we lose our jobs, we lose family and friends – whether through death or through growing apart. Marriages break all around us, relationships fail, friends part and go separate ways. People we were once close to become like strangers. People betray each other left right and center. Human bodies are stricken with illnesses. Mental illnesses are on the rise. People fall into depression, despair, and hopelessness.
In an instant, our lives can turn around; what we once knew becomes non-existent. We find ourselves in an unfamiliar place.
What do we do in such circumstances? Do we normally place our hope and security in all the wrong places? Where do we place our hope? Is it in other people, in our jobs, in our partners, in our family members, in our friends, in material things, in our accomplishments?
Whatever we place our hope in, we idolize.
Those things, events, circumstances, or people we place our hope in become our masters; we become their slaves; we become dependent on them. If our lives are entangled with everything around us, we lose ourselves; we lose our sense of self. And when external turmoils strike, we are thrown into confusion.
The Bible instructs us to hold things of the world loosely.
Do not love the world or anything in the world. If anyone loves the world, the love of the Father is not in him. For all that is in the world – the desires of the flesh, the desires of the eyes, the pride of life – is not from the Father but from the world. The world is passing away along with its desires, but whoever does the will of God remains forever. 1 John 2:15-17.
We are either of the world or of God; we cannot be both. The fleshly desires are many, and we need to recognize that quickly whenever our flesh flares up. Our security does not come from accumulating wealth, from family, from security forces, from having a stable job, or from starting family and having children. None of that is our source of security.
God is our security.
God reveals Himself in many ways. Creation itself is God revealing Himself to us. Christ died for our sins and thus we do not have to carry heavy burdens. Christ bore it all for us. He then left us with the Holy Spirit, who dwells in us when we receive Christ as our Lord and Savior. Our walk then becomes that of faith. We take the Word of God as it is. God's Word has everything we need to know.
Now faith is the assurance of what we hope for and the certainty of what we do not see. Hebrews 11:1.
We are told without faith we cannot please God. Things of God require faith, and through faith, we get the certainty; the security we long for.
God is the only one who fills the void of security in us. Our works mean nothing without faith; we cannot work our way to certainty and security. Faith is certainty. God is our Source. When we rely on people to provide security, we will always crave for more. We will start idolizing things of the world; yet, all that will pass away.
People and things of the world will never fill us; such will only enslave us and bind us in chains and addictions. But when we know the truth, it sets us free.
Jesus answered, "I Am the bread of life. Whoever comes to Me will never hunger, and whoever believes in Me will never thirst" John 6:35.
The truth is only found in God's Word. In Christ we have everything we need. When we accept Him into our lives, He comes and fills us up. In Him we have certainty. In God we are made whole.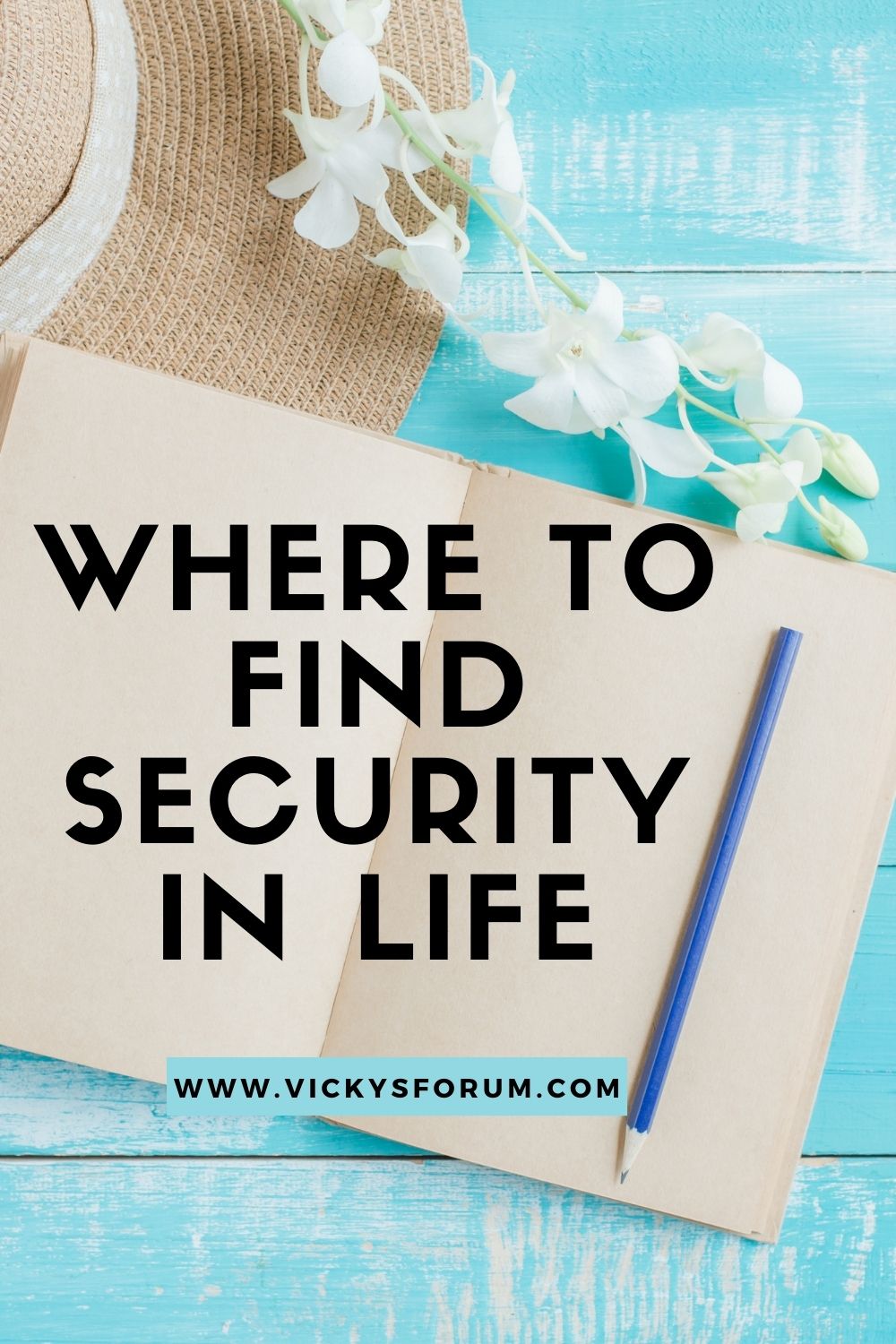 The Word of God is full of promises. We claim them by faith. We believe God is who He says He is, and everything He says comes to pass. God's Word does not return to Him without accomplishing that which it was meant to accomplish.
"And I give eternal life to them, and they will never perish; and no one will snatch them out of My hand. My Father, who has given them to Me, is greater than all; and no one is able to snatch them out of the Father's hand" John 10:28-29.
God loves us with an everlasting love; He is unchanging. His love and mercies endure forever. He is the One who was, who is, and who is to come. He is the great I Am.
We are to surrender everything to God.
We do not control other people, we do not control circumstances, we do not control other things apart from ourselves. Yet still, God is the One ultimately in control of our lives. We belong to God. He gave us free will to do what we want to do but ultimately we realize that without God, we are not. We give up our need for control, then, we let God take over.
We live by faith. When we allow Jesus Christ into our lives, He gives us a peace that surpasses our understanding. Things and our lives will not always take the trajectory we might have planned. Many are the plans in a man's heart but the Lord's purpose prevails. Yet, in all things, we know that God works all things together for the good of those who love Him, those who are called according to His purpose.
When we put our faith in God, there we get the security our hearts long for.
Therefore we are always confident, although we know that while we are at home in the body, we are away from the Lord. For we walk by faith, not by sight. We are confident, then, and would prefer to be away from the body and at home with the Lord. So we aspire to please Him, whether we are here in this body or away from it. 2 Corinthians 5:6-9.
Our security is found in and rooted in God.
Blessings.
To learn more, Click Here.
Get my free guide: How to forgive someone who has hurt you deeply. Click Here to download.
Get free consultation about my Christian women coaching mentorship program. Click Here to get more information.
To watch YouTube videos, Click Here.
Click Here to listen to the podcast.